I alighted stiff as a board from the marshrutka, the legroom provided by Georgia's local minibuses inadequate for anyone like me above average height.
It had been a three hour ride from Zugdidi, and an overnight train ride from the capital Tbilisi before that. In heavy rain, there'd been a bun fight for the last proper seat, so my place, though uncomfortable, was hard won.
Marshrutka full, the driver had hared off down the road, spraying great waves of floodwater over pavements and garden fences. On the edge of town, he came to an abrupt stop, wound down the window and hurled a torrent of abuse at the driver of another passing minibus who'd screeched to a halt next to us. I'm guessing it was about poaching passengers. Face-saving yells exchanged, we were off.
I shouldn't have been surprised at the driver's outburst. After all, the inhabitants of Georgia's Svaneti region are well-known for their fiery tempers and wild behaviour.
Trepidatious, I decided it was better to keep a low profile. Save for the odd swerve to miss a pothole and a handful of wandering cows, the journey turned out to be uneventful. The rain eased off by the time we reached Mestia though cloud still hung low over its streets, obscuring the view. Unless the weather improved, it was going to be a dismal trip.
Mestia was experiencing something of an economic awakening. A couple of winters before, the area's potential as a ski resort had been recognised and as a consequence, the road into Svaneti had been resurfaced, shaving two hours off the journey from Zugdidi.
A handful of wooden chalet-style hotels had opened, transforming what had once been a sleepy village. But this being the start of the short summer season, Mestia was dead. Undaunted, I wheeled my bag in, what I hoped was, the direction of my accommodation, the Svan House. With a soggy map and a few wrong turns, I settled in for the night.
The following morning, to my delight, the clouds had lifted. From my balcony, I had a view of the mountains and my first glimpse of the enigmatic towers that Svaneti was famous for.
Built as dwellings, the skinny rectangular structures were once impregnable fortresses, built from thick stone to keep their occupants safe from attack. A series of wooden platforms compartmentalised the towers, humans upstairs and their livestock on the ground floor. These days, though a few had been exploited for their tourist appeal, most remained in a ramshackle state and could often be located in people's back yards.
One, a few blocks away from my hotel, was open to visitors. A sturdy wooden staircase stretched up to the first landing, going any higher was via a creaky ladder whose rungs twisted when I gave them a trial bounce. I wimped out, fearful of where reckless bravado might take me.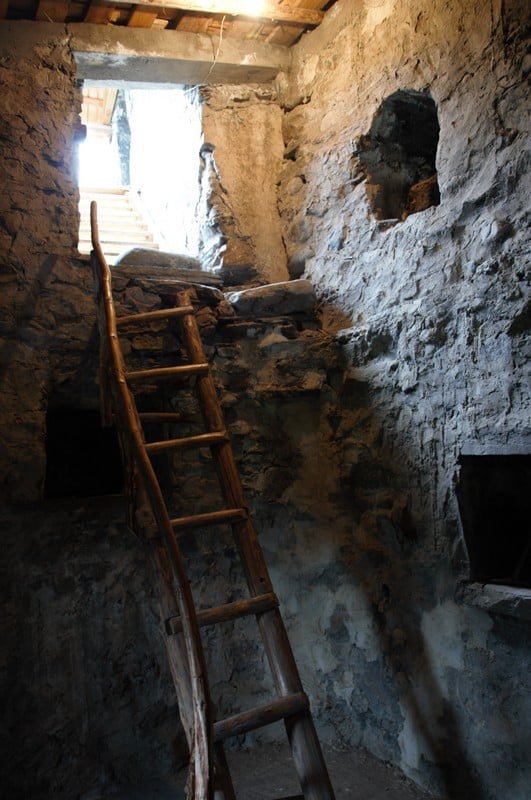 Instead I set off for the chair lift, a few kilometres out of town. It carried me up to a cafe. From its terrace I could see across the valley to a two-horned peak capped with snow silhouetted against a blue sky – Mount Ushba, the Matterhorn of the Caucasus.
A couple of customers, wrapped up against a chill wind, sipped drinks. Besides them, the place was deserted. I took a short hike to a meadow strewn with Alpine flowers and contemplated my luck. If this had been Switzerland, the place would have been heaving.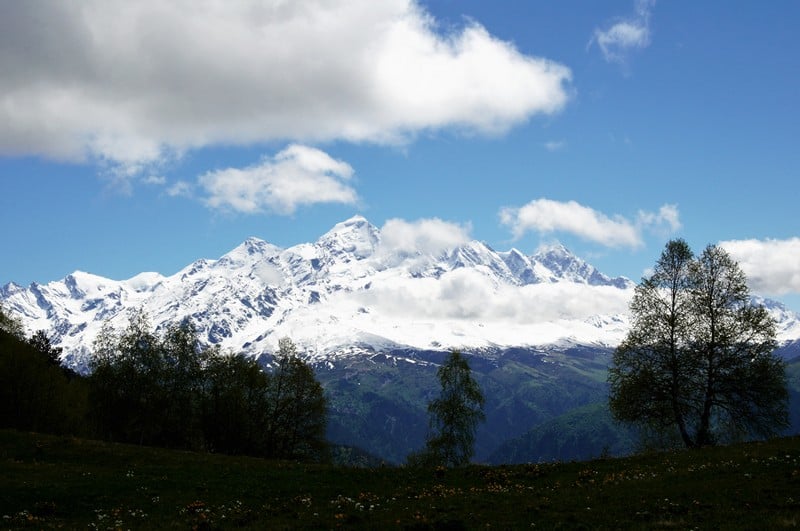 The following day, the sun on my back, I set off alone for the Chalaadi glacier. Though the border with Russia was close and the area patrolled by soldiers, I'd been reassured it was safe for solo travellers by the tourist board's literature.
I crossed a rickety bridge to the start of the trailhead, where a path wound through dense forest. Leafy trees provided welcome shade; at this lower altitude the sun had some strength. The path led alongside a meltwater stream, its glacial waters racing over tumbled stones to the valley below.
Eventually I came to a clearing and picked my way across a boulder field to reach the base of the glacier. It was a beautiful sight and yet, again it was deserted. It would be half an hour before another couple of hikers tramped past.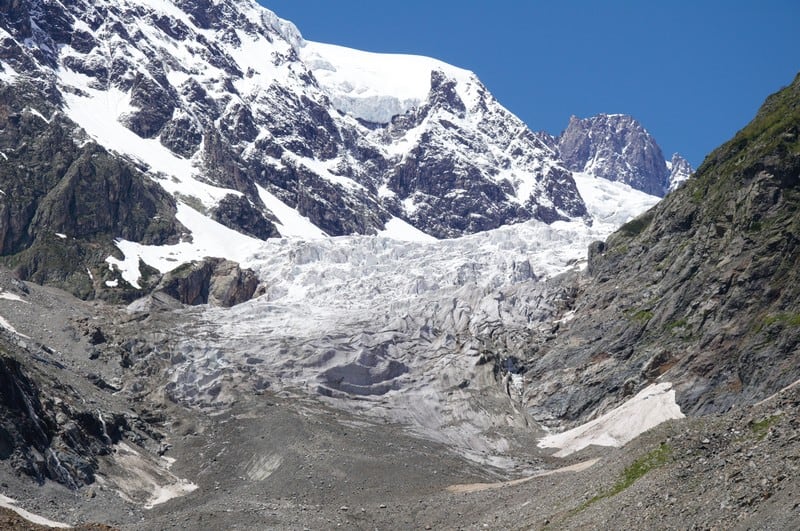 The crowds finally materialised that evening in front of a temporary stage erected in the main square. I too, watched as a stream of children of steadily increasing age and skill danced enthusiastically in traditional Svaneti costume.
When they'd all had their turn to shine, the organisers shooed the spectators away with great urgency, the last of whom moved out of the way just in time to avoid some spectacularly dangerous pyrotechnics which formed the show's finale.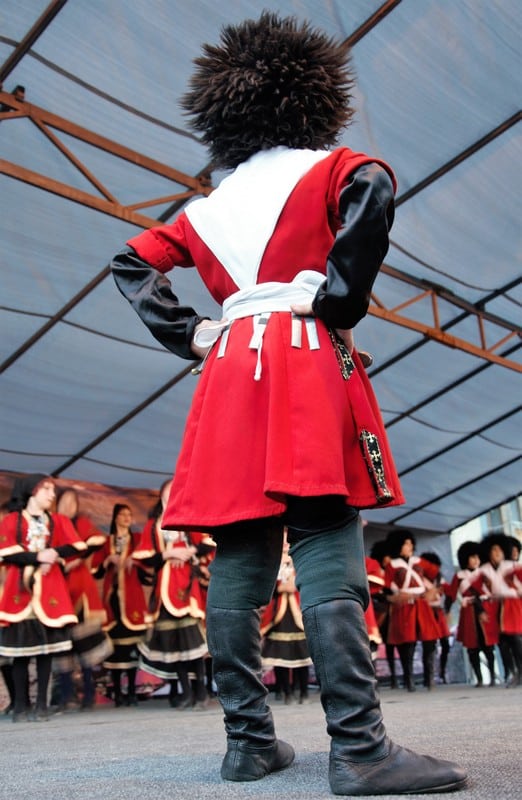 Mestia and the other villages of Svaneti are emerging from their slumber and stepping up to take their place as Eurasia's next must-see destination. You'd better get your skates on if, like me, you want to keep those views to yourself.