Should I Go?
Oia (pronounced "eee-ah") is a small town perched on the cliffs at the north end of the island of Santorini. We've heard that the sunsets are the best in the world – high praise indeed and certainly worth checking out. Tourists swell the population of both Oia (~2k) and Santorini (~20k) during the summer.

How Long Should I Go?
Santorini makes it to number one in the Skyscanner top ten Greek Islands but Expedia only has photographic excursions and Virtual Tourist has more Travel Warnings than Itineraries. TripAdvisor has a good range of wine-tasting and boat tours, but when it boils down to it there's not a lot to do in Oia proper. Unless you like upmarket shopping, or spending large chunks of cash. We're only there for three nights, but if we were to expand the budget a little, we could have easily filled the week.
How Do I Get There?
Thira (sometimes spelled Fira) has the only airport on the island, and it is well served with budget airlines from Athens (50mins £45) and from London direct (4hrs £80).
How Do I Get Around?
All roads lead to Fira – the main city in the middle of the island. This means if you're travelling from the airport to Oia, you have to get two busses, transferring in Fira. We arrived just after midnight, well after the busses stopped running, so I arranged a transfer from the airport with our hotel for €40. I looked it up and that was quite competitive with other quotes being €45. My travelling companions were tickled pink by being met by a driver holding a card with our name on it!
No trains, one airport and a bus network which is functional but not extensive makes the taxi/self drive options very attractive. Which of course clogs the roads. We weren't there at the height of the season, but I would imagine you should give yourself a lot of time to get to your destination to allow for traffic jams.
How Much Is It To Stay?
Oia ain't cheap – sure you can find cheapish places to stay, but the rooms available skew towards the higher end of the scale.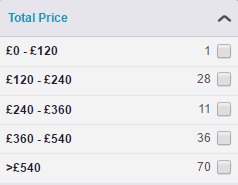 Skyscanner shows that most of the rooms tend to be in the £180+ range and even AirBnB shows the bulk of rooms between £150-300 per night. Even though we're visiting a luxury location, we're travelling budget-style, so end up staying at Casa Francesca & Musses Studios for about £50/night.
What Shall I See?
We missed the sunset on day one because our flight got in at midnight, meaning we only had two other sunsets to see – the rest of the time was going to be spent cooling off from the sun at beaches.

Day One – Cliff Jumping
We had a wander through town, checking out the great views down into the caldera to the south. The heights are commanded by luxury fashion shops and I realise these are for the benefit of the hotels which are implanted in the cliffs on the south side, which would have impossibly beautiful views.
We're heading down to Amoudi Bay to check out where they filmed a scene from the movie "The Sisterhood of the Travelling Pants" where they all jumped into the ocean off a cliff. Seeing as Oia is 150m above sea level, that involves a trek down 150m worth of steps to sea level.
There are donkeys who will take you down for a price, but as lazy as I am there's no way I would inflict that on any animal. There's limited shade, so I'm glad we've done this trek earlier in the day – it would be a killer in the noon day sun!
We get to the bottom and head left through restaurants perched on the side of the bay – seafood is the obvious specialty here and we glance at the menus, knowing we'll be ready for a spot of lunch on the way back after our swim. The well paved path finishes and we continue on a more adhoc path – enough people are following in the same direction for us to know that we're going the right way.
We end up on a promontory a short swim away from an island with a church on it. The church is not really the draw-card – there is a path up to a perfect leaping spot about 5m (15ft) above the water level.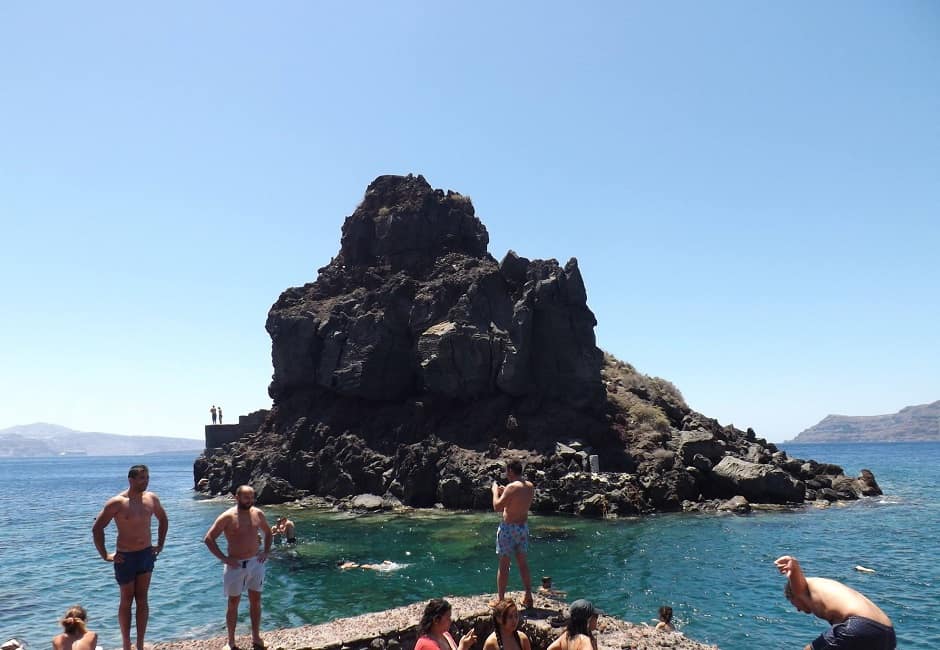 A bit of advice: there are two choices to get out of the water on to the island: you can try to beach yourself like a penguin or seal would, or else you can use a rope and use it to climb up. Use the rope. The rocks and waves (as small as they are) makes it awkward to get up without the rope.
Then a brief climb up some stairs on pebbly hot concrete, a short dash and a 5m plummet into the ocean.
We spend about an hour in the water, half a dozen leaps from the cliff face, and then start getting hungry. A boat noses close to the island, disgorging more tourists keen to make the leap, so we head off to avoid the growing crowds.
Back at Amoudi Bay we lunch on simple food well prepared – there really is something different about a Greek salad in Greece – I don't know if the more intense sunshine is what makes it so much better… Oh! And I finally find mussels as big as the ones back in New Zealand – the size of my thumb, not just a thumbnail!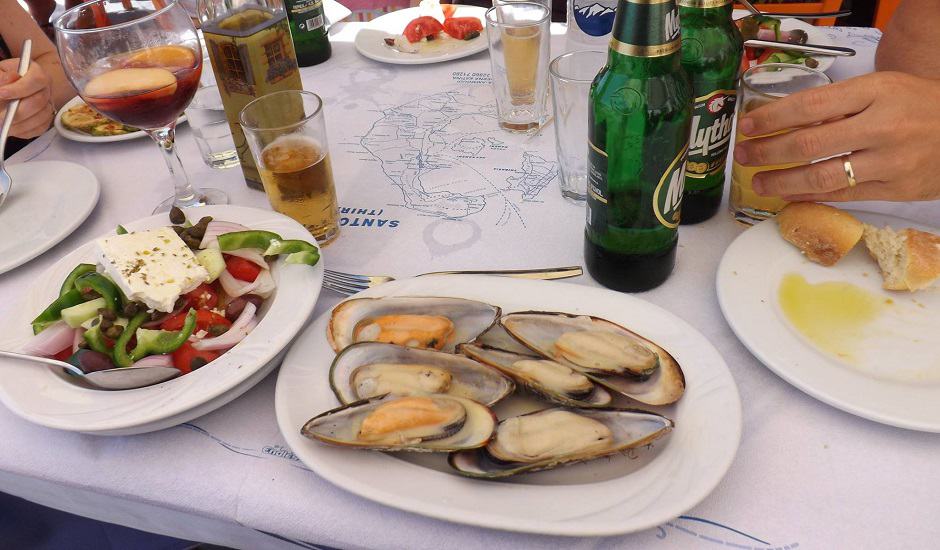 Originally we had planned on spending day two exploring Thirasia – the island just to the south west of Amoudi Bay – apparently the best way to get there is to go to where the fishermen dock their boats and negotiate a fee to take you all over. There is a ferry early in the morning as well – €1: bargain!
But looking across at the island and asking the locals about it, there doesn't seem to be much to do over there – there's certainly no shade or cover and the thought of "exploring" with not much payoff makes us rethink the plan. If you're interested in what we missed out on there is a gallery of photos giving a flavour of the place.
We head back up the hill to Oia proper and go back to the hotel to await sunset. We research where the best place to watch the sunset and come up with Lioyerma Lounge Cafe Pool. We head over and may have grabbed a spot in the pool if there had been any room – its not full but it is a very popular place to come it seems.
To be polite we order a drink (standard prices) and settle in to watch the sun go down. As advertised, the colours are gorgeous but I'm a little surprised that everyone applauds afterwards. Apparently it's the thing to do here. I guess it was a good show…
On the way back from Lioyerma's we stop off near the bus station for some good cheap local food. The further away from the sea views you go, the more reasonable the prices and the more locals there are. We figure where there are taxi and bus drivers there will be good fast food, and we are not disappointed.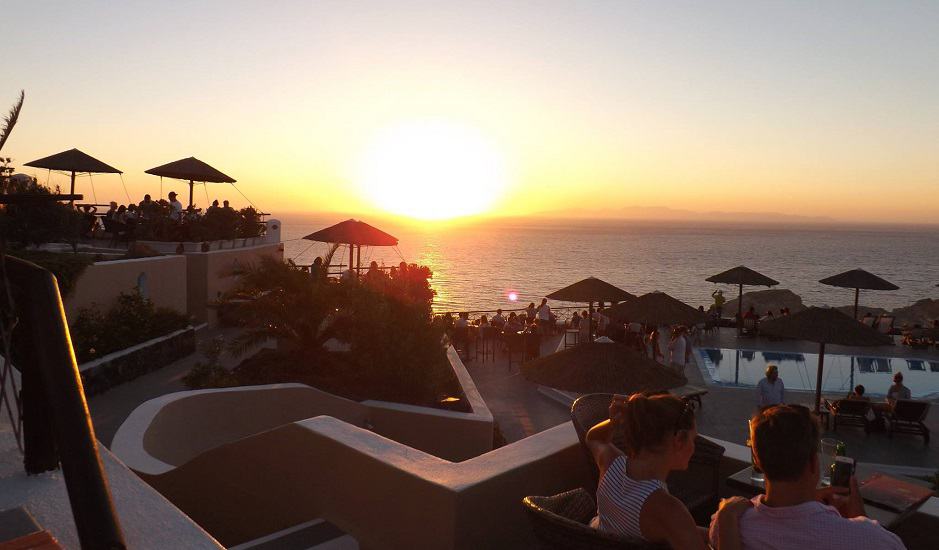 Day Two – Paradisos
With Thirasia no longer appealing, we decide to head off the beaten track a little and head to the north side of the island away from the glitz and glamour of high fashion boutiques and go to an enticingly named Paradisos Beach.
Normal people would have rented a car or scooter or the 4×4 off roaders that they call "squats" here to make the 4km trip, or maybe even have taken a bus – but not us in "budget mode"! We decided to walk despite no cover and the glorious Greek sun over head.
It takes less than an hour, but we're ready for a dip in the ocean to cool off by the end. On the beach is the ubiquitous sun lounger/umbrella set up with attendant hovering nearby. The attendant is from the hotel nearby who have put in shower facilities and you can order refreshments from the bar as well which makes it all very civilised. It feels deserted though – it's on the wrong side of the island for the crowds.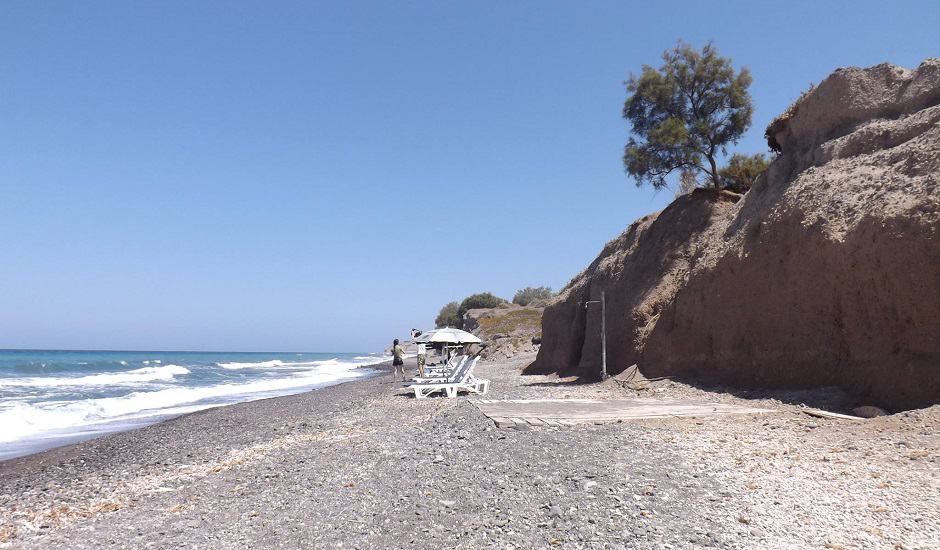 We spend a few hours swimming in the sea and getting our money's worth from the sun umbrellas and then head back. Except we decide to take a short cut back. Sigh. Big mistake. In terms of straight line distance it makes sense – unfortunately the "road" on Google maps swiftly devolves into over grown tracks with nothing but empty fertiliser bags and small calibre shotgun shells (shooting rabbits? scaring off birds?) littered around.
Eventually any pretence of a proper track is abandoned and we're trekking through thorny bushes until we emerge, sweaty, scratched and a bit sun burned about 100m from our hotel. We spend the rest of the afternoon tending our wounds and muttering about who's idea it was to take the short cut.
My travelling companions head out for sunset round two and by all accounts it's just as good as the first time – applause and all. They watch from further towards Oia centre this time and are glad they arrived early for a good spot, fortified by a few beers purchased from the local store.
We had previously approached the owners of the hotel and asked for recommendations for a restaurant. We were sure to ask for one which the locals ate at rather than over spending at one with a great view. He recommends Anemomilos, a little way up the road. We head up there and have a really enjoyable evening.
It starts before we even get there as we discover that a narrowing of the road has lead to an impasse with a huge bus being stuck there and the oncoming traffic not being able to move enough to let it past. Apparently this is a common occurrence and Anemomilos is a great spot to watch as the negotiations begin for who has to move how much in which direction for the impasse to be resolved.
We enjoy a bit of banter with the waiter and the meal is a triumph, and reasonably priced too. We walk back in the dark with still quite a bit of traffic around, though they have managed to clear the blocked bus.
Day Three – Fira
We have a late afternoon flight from the airport so decide to take an earlier bus to Fira and spend the bulk of our time there to have a look around. It's the biggest town on the island, and is where the big cruise liners drop their passengers off, plus where the ferries from the other Greek islands dock.
It's similar to Oia in that the town is perched on top of the cliff, but there's a cable car from top to bottom if you don't feel energetic enough to tackle the 220m to sea level (€5 one way). Fira's even more touristy than Oia but with a wider appeal – a broader range of shops and pubs may be an indication that there's just more physical space here. The alleyways have cover which is a nice change, and they are more of a grid pattern. I daresay the additional size would make it very possible to get lost after a few drinks though!
We spend an hour or two looking around but I get a little bored as there's not really a lot to do – and shopping is not my thing. So we head to the airport where we're surprised by the enormous line snaking out of the building.
We find out when we need to be at the counter to check in and head to a nearby pub for a drink or two while we wait. there are a couple of identical pubs over the road and we relax and ruminate on what we have liked best about our time on Santorini
How Much Did It Cost?
We did Oia on the cheap – lets assume you wanted to do the same trip as we did (3 nights, flying from London)
Budget
Standard
Luxury
Flights
£100
Accommodation (per night)
£50
£150
£300
Transfer
€40
Beach Umbrella and Sun Lounger
€10
Bus to Fira
€1.80
Bus to Airport
€2.20
TOTAL:
£418
£718
£1168
All figures are per person except Accommodation and Transfer to hotel. €/£ of 0.86 used
Would I Go Back?
I don't know – the sights are amazing, but there's not a whole heap to do. So I would maybe go back if I wanted to spend a lot more on accommodation and just wanted to veg by the pool and enjoy the view.
Previous: Visiting Athens: The Cradle of Civilisation | Part of Trip: Sunsets in Greece | Next: Exploring the Beaches and Towns of West Crete