Should I Go?
Crete is a country town writ large – it's got a bunch of small towns on the coasts with mountainous countryside in the interior. With a population of less than a million, it's the biggest of the Greek islands giving it a very low population density. It's very hot and dry – perfect for the beach. Given Greece's economic turmoil it's also cheap, and the food is glorious. It's full of natural beauty – people rave about the beaches and walks, but is also well supported by good infrastructure and historically significant things to see.

How Long Should I Go?
It's always difficult to gauge this because of the beach angle. For me, it's always possible to stay at least a week at a beach destination, but Crete is large, so exploring can soak up as much time as you throw at it.
Beaches feature highly on the online guides Skyscanner, Expedia, Virtual Tourist and TripAdvisor and for good reason – they are spectacular. We focused on the west of Crete which matched our stay of four nights quite nicely – it did mean we missed the ancient Minoan sites though.
How Do I Get There?
We were flying into Crete from Thira on Santorini so used one of the regional airlines (€60pp), but Crete's two airports (Chania and Heraklion) are served with a few direct budget airline flights from London (£200-300, ~4 hrs). It's also worth noting that Greece's islands are well served with ferries, especially in the summer – an additional option.
How Do I Get Around?
Crete is well served by public transport – busses and ferries in particular. We also hired a car through our AirBnB for the trip to the beaches because the public transport just wouldn't give us enough time to do everything we wanted to do.
The schedules may not be particularly friendly though – we discovered this when we arrived at Heraklion airport. Our research had told us that there was a cheap local bus from the airport to the main bus station in town, and then from there we would have a regional bus to Chania (2hr45).
The timing of the bus into town was awkward though, and being in budget mode, we were unwilling to spring for a taxi, which involved us taking the local bus into town and then sprinting down the middle of the street trying to flag down our regional bus as it departed en route for Chania. We settled for eating a late dinner in a public park before desultorily catching the next bus an hour later.
Unfortunately there are no direct flights from Thira to Chania, and no direct ferries either.
How Much Is It To Stay?
AirBnB has a large range of options in the £30-£70 range and Skyscanner has hotels for £40-£80. We chose an AirBnB close to the bus station as we would be getting in and out of Chania via bus and would be using the busses during the stay. This backfired a little because there was a bodega across the street which was frequented by heavy drinkers who had loud drunken arguments into the early hours or the morning.
The host was very convivial though, spending a lot of time with us making sure that we were well settled and discussing the various eating options nearby and offering advice on our itinerary. We also booked a hire car through him. I've since looked for him on AirBnB but don't seem to be able to find his place to get a link.
What Shall I See?
We were staying in Chania (also spelt Xhania with an interesting pronunciation) , and decided day one would be recovery from the trip plus seeing the city, day two would be the Samaria Gorge, day three would be Balos and Elafonissi Beaches and we would have a look around Heraklion before our flight back on the last day. As I said earlier, we were not going to get to the eastern part of the island with its Minoan historical sites and we just wouldn't have time for a look around Rethymnon despite it being an apparently delightful Old Town.
Day One – Chania
We rested until noon and then headed into town. Chania's noticeable architecture is Venetian – lots of thick stone walls and not hugely tall. It is based on maritime activity, so truly awesome harbours and sea walls.
We had a swim near the markets, and pretty much had the whole "beach" to ourselves – it was a short stretch of sand near the promenade, near the swimming pools. We headed back to the harbour to take photos of the sunset which was spectacular, and then headed to an american-kitsch-decorated burger bar. It was late but town was only just getting going. It was good to see locals out and about – not just tourists.
Day Two – Samaria Gorge
We decided to do the Samaria Gorge walk. We wanted to avoid the heat of the day and crowds so elected to take a very early cheap bus ride to Omalos where the trail starts, do the walk and then catch a ferry from Agia Roumeli to Hora Sfakion, and then return via bus from there.
There are seasonal considerations when deciding to do the Gorge – in winter the water levels become dangerously high and the town of Agia Roumelli was actually much closer to the end of the Gorge but was washed away by floods. Best to check that the Gorge will be open if it's a significant reason to come to Crete. Also the ferries run a different timetable depending on the season. Best check beforehand.
A couple of notes on the walk.
Be prepared: it's a long walk and there aren't any shops along the way. There's a store at Omalos selling water and sandwiches, but after that you're on your own until the pub/cafe at the other end – damn near 15km away. There are watering stations at the rest areas, but it's a good idea to take your own.
It ain't no stroll. The first part is steep down hill steps, on uneven terrain and lots of stones. So if you have limited mobility or aren't the best on inclines, you might want to think twice.
Sturdy foot wear is a very good idea.
After you've completed the trek there are a couple of pubs at the exit, but then there are another 3km of totally exposed road to the town of Agia Roumeli. There is a van which will take you for €5, and seeing how exhausted we were after the gorge we decided to take advantage of this.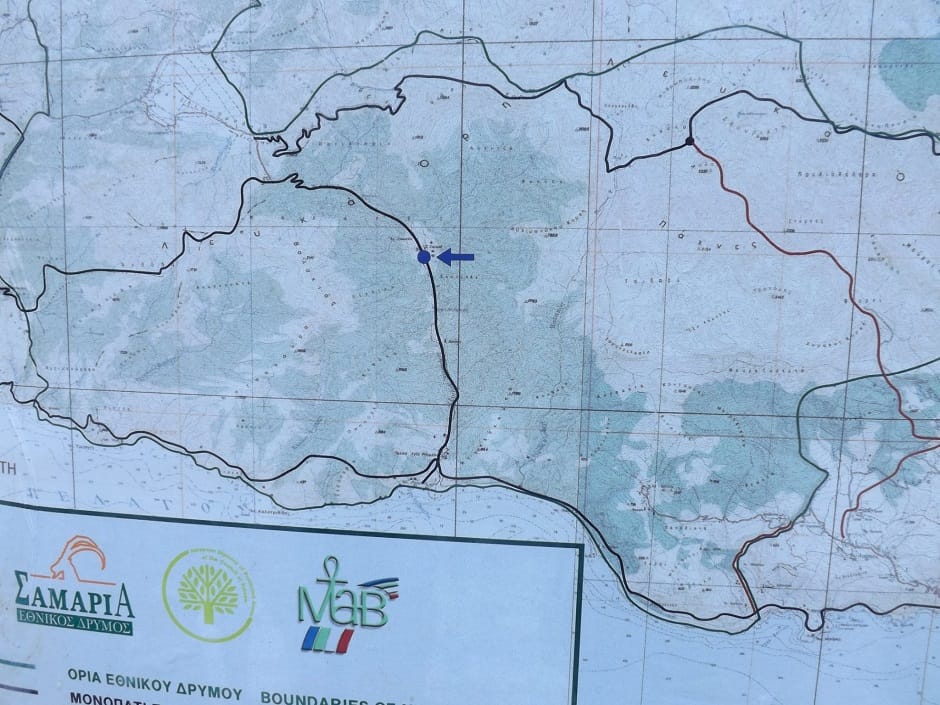 Once we arrived at Agia Roumelli we had a few hours to kill – we had toyed with the idea of trying to race through the Gorge in order to make the earlier ferry but that was without due knowledge of the terrain and effort involved with the walk. We made good time though and were happy for the extra time to recover.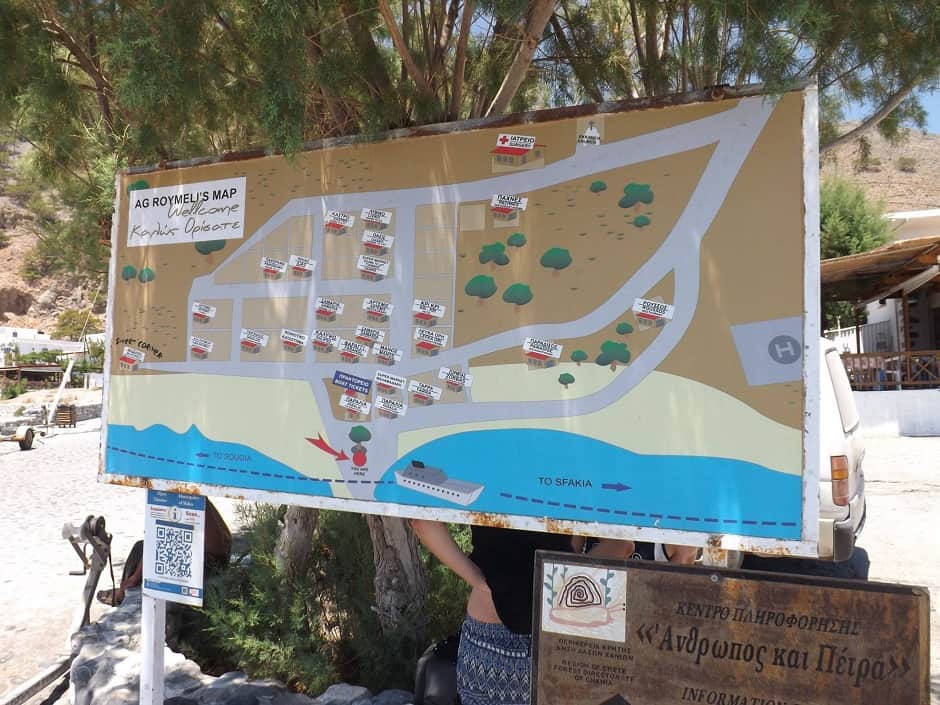 The airport in Heraklion had a huge bus depot beside it – a bay for each tour company indicating that package deals are a big thing over here.
When we got to Agia Roumeli we saw one of hotels that were in the package holidays. A simple hotel right on the beach with a mass of umbrellas with sun loungers underneath them. I must admit that before coming to Greece the thought of paying someone to sit under an umbrella on a lounger was foreign, but now I've come to terms with this (European) practise. So: black sand beach, minimal surf, three sections of beach delineated by different coloured umbrellas and obviously serviced by different hotels/restaurants, and wooden boards connecting the showers with the loungers and the water.
We rock up and within a couple of minutes an attendant comes up to us and says there's a price for using the sun loungers or you can buy a drink from the restaurant for the same price as the ticket. I make sure I have my facts right, to ensure I'm not victim of the language barrier and yes, you can either pay for the €4 ticket or you can get a drink for €4 – either way gets you the sun lounger for the day. Bargain.
It should be noted that there is no other shade on the beach – no trees near by, nothing. After twenty minutes enjoying my drink and reading my book I decided to go for a swim. Now I have read the online forums and they said to wear some sort of footwear while going to the waters edge "because of the stones". I think to myself, meh. I'm tough, I'll just risk it. Despite having my sandals in my bag.
So I head off along the wooden boards to where the water begins. There's perhaps ten metres between where the boards end and the water begins. OMG. The black sand has been baking in the sun without respite for four or five hours. There are two seconds after the first step where my brain is quietly going about its business and then BAM! it is swamped with messages explaining just how hot the sand is. Time slows to a crawl. It's as if I'm moving through treacle. The only constant is the white noise bombarding my brain with "Aaaaaaargh" screams from my feet.
The sand is soft and so my feet dig deep as I try to move as quickly as possible to the water. Even after I manage to make the safety of the water there is a thirty second agony as the built up messages of foot pain slowly dissipate. "Because of the stones" should have read "Because the sand is unbelievably FRICKIN hot".
I wait in the water until my travel companions decide that they too want to go for a swim and I entreat them to go back up to my bag and retrieve my sandals before they get in. I would have gladly taken two small children and tied them to my feet rather than risk walking on that lava sand again.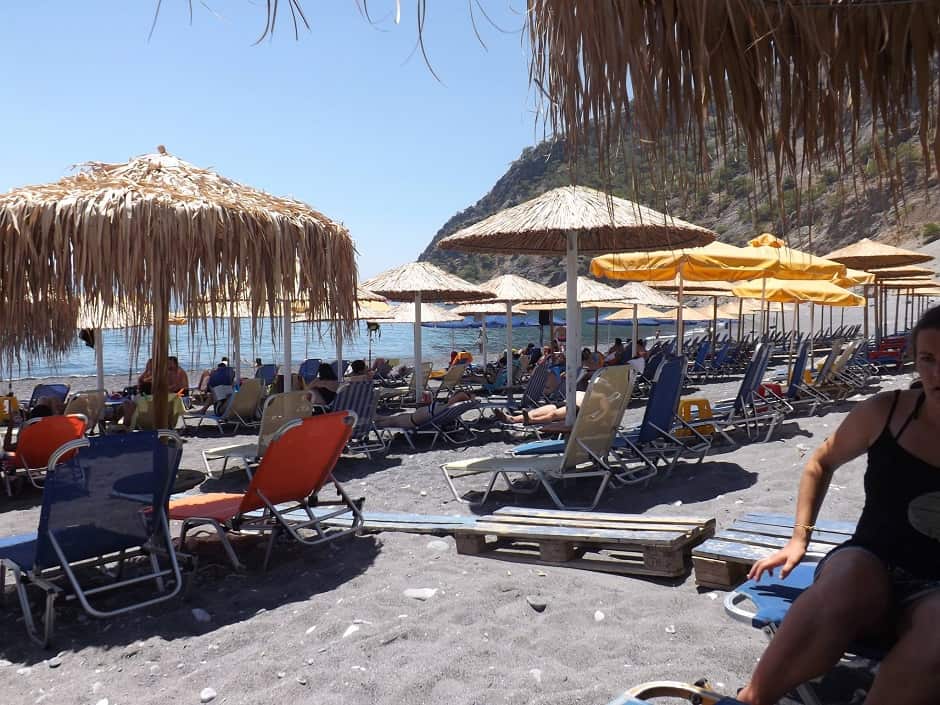 The ferry stops once on the way to Hora Sfakion, so don't get off at the first stop! Announcements leave a little to be desired, but if you familiarise yourself with the timetable you'll be fine. The busses at Hora Sfakion await the arrival of the last ferry from Agia Roumelli, and we heard that in the height of the season it's possible that the tourist to bus ratio is so high that its possible to be left behind!
That didn't happen with us but there were an impressive flood of visitors all heading off the ferry and up the hill to the bus stop, so I could see how that could. We planned ahead and bought a combo ticket which covered both the ferry and bus and found a Chania bound bus pretty quickly.
Nothing quite like a day of exercise to get you a good night sleep.
Day Three – Balos Beach & Elafonisi
We'd arranged to get a hire car from our AirBnB host and drive to Balos Beach and Elafonisi in time to watch the sunset. I was tempted by the bus/ferry option from Kissamos for €27 but that would get us back to Kissamos at 6pm – not enough time to get to Elafonnisi for the sunset. I quite fancied the idea of a slide off the boat into the ocean and the stop off at the Venetian fort on Gramvousa Island, but Elafonissi won out. So we braved the streets of Crete and headed West.
Driving went without notable incident and we stopped off on the way for supplies. I think it was even Kissamos that we stopped at for sunscreen and food. Not long after the turn off for Balos Beach is a little hut with a youth who comes out and charges you a couple of Euros for using the road to Balos.
As you go along it you can see why – the toll is needed to seal the road. Gravel and pitted, the road climbs higher and higher along a cliff face with a sheer drop on one side to gorgeous blue waters on one side and sheer rock with goats impossibly perched half way up on the other.
Every now and again you see what appears to be a bird feeder on the side of the road which upon further inspection actually turns out to be a little shrine. Apparently to someone who has plummeted down the side of the cliff to their death, but I don't know how much credence to place in that story – but there were a lot of shrines!
After an aeon we made it to the carpark at the top of the hill. The wind had picked up and so the dust from the carpark whipped us painfully until we figured out how to fashion our towels as protection.
Goats made themselves at home in the shade under the cars. The carpark itself is scattered with large rocks making parking a fun game of "will we rip the bottom out of the car and be stuck here?" careful manoeuvring ensures we find a space. But the carpark fills up quickly – on the way back out we see that it has become totally full and people are parked on the side of the road for a good few hundred metres.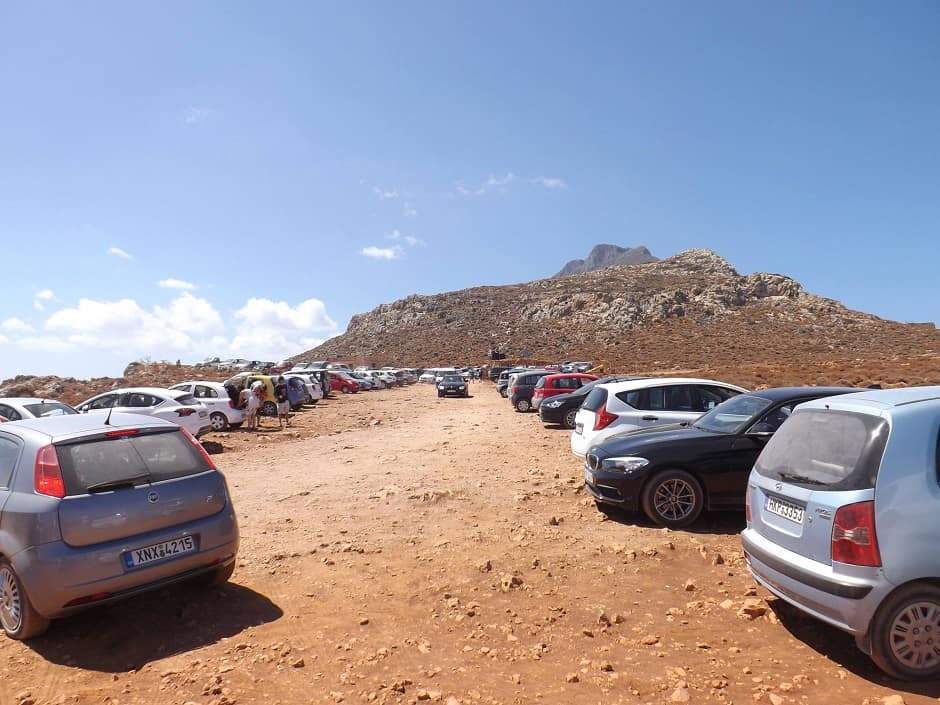 Now there's a bit of a hike to the beach proper – the wind makes it difficult to talk so we concentrate on putting one foot in front of the other. The terrain is pretty desolate – tufts of tough grass but very little else.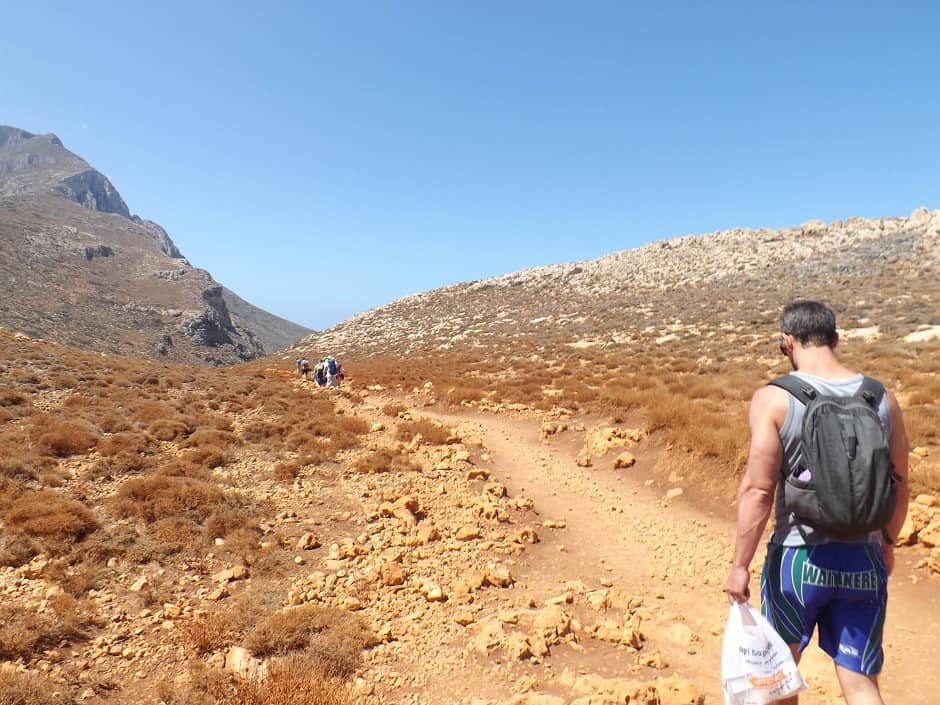 And the we get to the beach – gorgeous!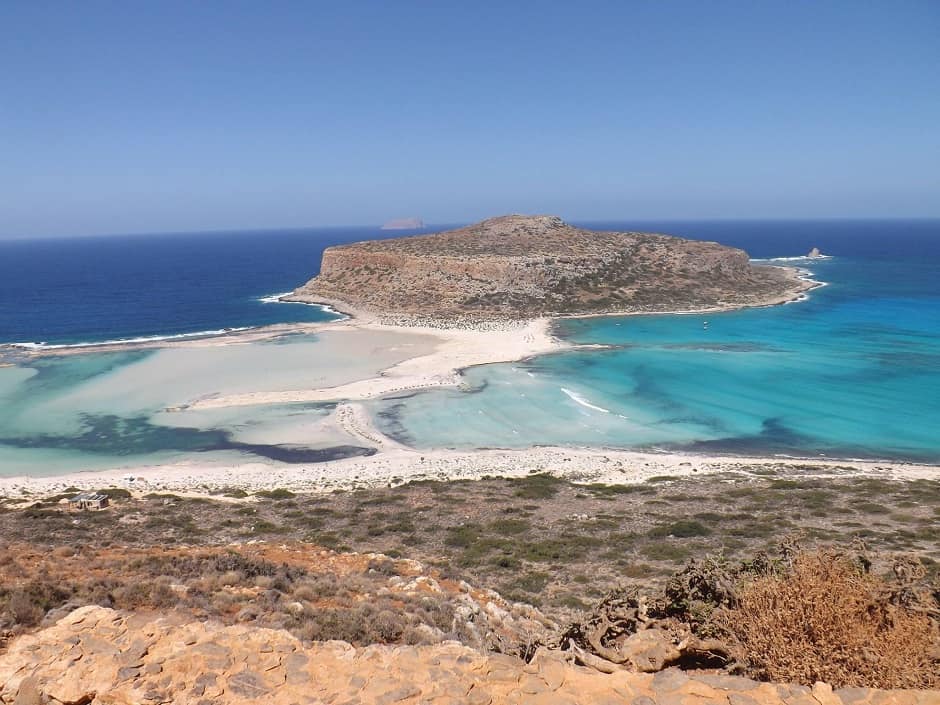 You're spoiled for choice – there are (paid) umbrellas in the middle split of sand which is periodically overrun with the water, on the right hand side is gentle surf, which drops away deep enough for the passenger ferry to dock at the jetty. On the left hand side there is a huge shallow lagoon which is bordered by some serious rocks and battered by powerful waves – no swimming on that side!
The lagoon gets quite deep just before the rocks and there are fish and different pools to explore. Thoroughly recommended!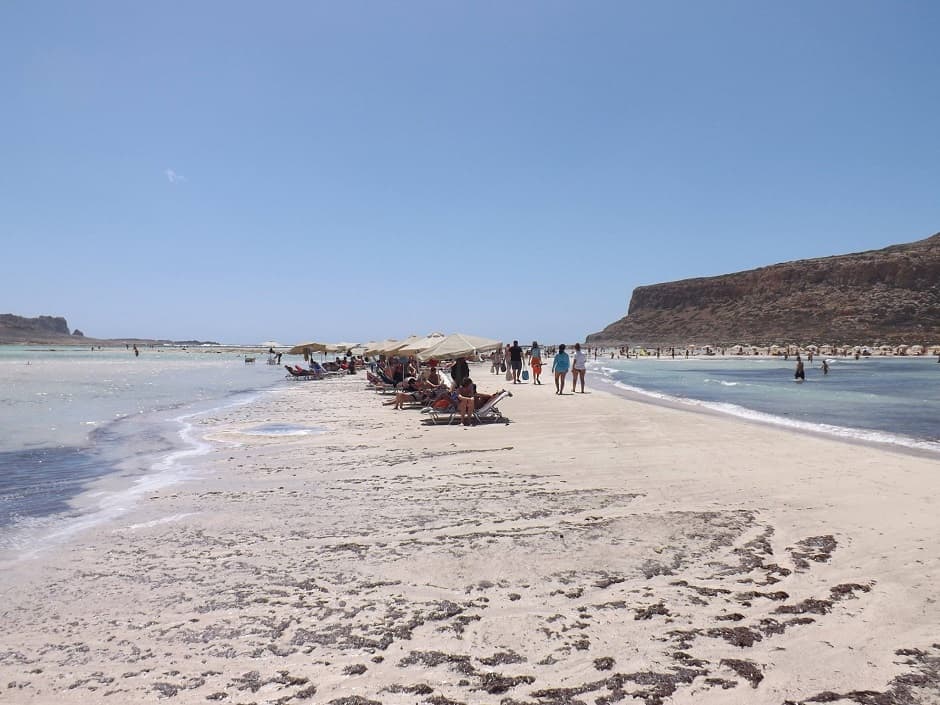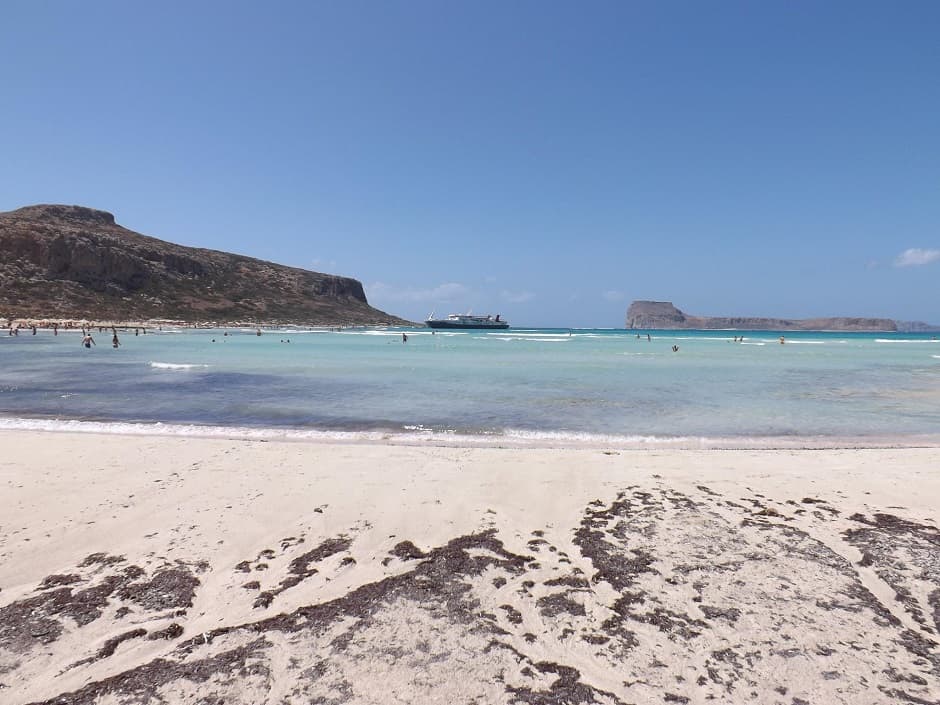 We head off not long after the ferry arrives – a hefty drive ahead of us. On the way back a friendly local says hello.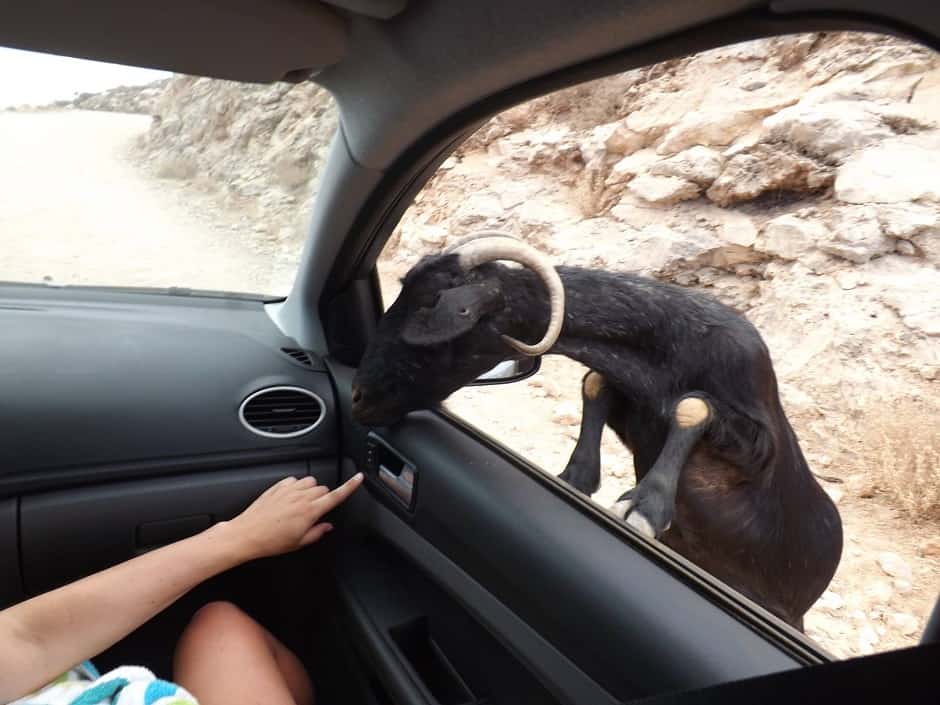 We swap the beach front towns for the mountainous centre. The roads are reasonable and the quaint mountaintop villages deserve some time to be explored, but the sun is not going to wait for us so we maintain a good pace. After about two hours, we hit Elafonisi Beach and head out past the sun loungers to the Church Agia Irini.
Walking on the sand is heavy going but we'd been promised a gorgeous sunset so we trek on. We keep away from the fragile grass and keep to the waters edge. The church is perched on a steep sand hill which reminds our legs that Samaria was only 24 hours ago, but we make it to the top. The church itself is deserted but seems to have been visited recently – whoever came left offerings of candles, heather and pictures of various saints. It's very tidy, and well looked after. After having a look around, we set up and wait half an hour for the sun to go down.
We get some good shots, and then head back in the gathering darkness. We try to stop off in the township for some dinner, but everything is closed. We check to see if there is a shortcut to get back to Chania, but the best route is the one we came in on. It's another long day, but you can certainly see why Crete has the reputation that it has for the beauty of its beaches.
Day Four – Heraklion
In contrast to our arrival in Heraklion, the return trip is leisurely. We get the bus from Chania with no issues and decide to spend the hours before our flight home exploring Heraklion. It's the Big Smoke of Crete and has a slightly more touristy focus – streets full of fridge magnets, I ♥ Crete t-shirts and other tat. The fountain that we're told Heraklion is famous for turns out to be a disappointment and the best part of it for me is the port area. We've only invested a few hours here and I'm kind of glad. I'm sure we must have missed some great attractions, but after Samaria and the beaches, I don't think Crete owes me too much.
How Much Did It Cost?
Let's assume you wanted to do the same trip as we did, but heading over from London instead of Thira (4 nights, flying from London)
Budget
Balanced
Comfortable
Flights (from London)
£200
Accommodation (per night)
£30
£55
£80
Heraklion
Bus from Airport to town
€2
Bus from town to Airport
€2
Bus to Chania
€14
Bus from Chania
€14
Samaria Gorge
Bus from Chania to Omalos
€2
Entrance fee
€5
Bus to Agia Roumeli
€5
Ferry from Agia Roumeli to Hora Sfakion
€12.70
Bus from Hora Sfakion to Chania
€8.30
Beaches
Car Hire
€20
Beach chair
€10
TOTAL:
£657
£757
£857
All figures are per person except accommodation and car hire. €/£ of 0.86 used
Would I Go Back?
I really enjoyed it but I don't think that I would – there's not enough there that I missed the first time to warrant a return trip, and Greece and the rest of the world certainly have more new beaches to explore.
Previous: Sunsets & Sunbathing int Oia, Santorini | Part of Trip: Sunsets in Greece | Last post in the series