"Did you sleep alright?"
My sister was giving me that look like she was expecting the answer to be a no. I guessed I might not be at my best, which wasn't surprising given I'd spent what felt like half the night nursing a stubbed toe.
"Kind of. In between, though, I managed to fall down a hole and trip over the shower."
She raised an eyebrow.
"I needed the toilet. Don't ask."
In fairness, she didn't. I suspected she just assumed clumsiness. In fact, the single room I'd been allocated at the Hotel Nomade was a bit of a tight squeeze, particularly in the bathroom, and to reach the toilet you had to walk through the sunken shower tray. But at least my room was ensuite, I reasoned. And it wasn't budget-bustingly expensive despite its central location in the heart of Sultanahmet, meaning I wouldn't have to hobble far to go sightseeing.
Sis had never been to Istanbul and had been easily persuaded by my assurance of cheap flights with Pegasus Airlines and tales regaled of the oh-so-cute kids who starred in its in-flight safety video. She'd hooted with laughter as I'd predicted and despite last night's late arrival we were in good spirits for the first day's sightseeing.
Breakfast on the hotel's rooftop terrace revealed an excellent view of the Blue Mosque so it was there that we began. The first thing that struck us was its immense size. The vast interior was lined with ceramic tiles; we later found out that there are more than 20,000 of them, all handmade.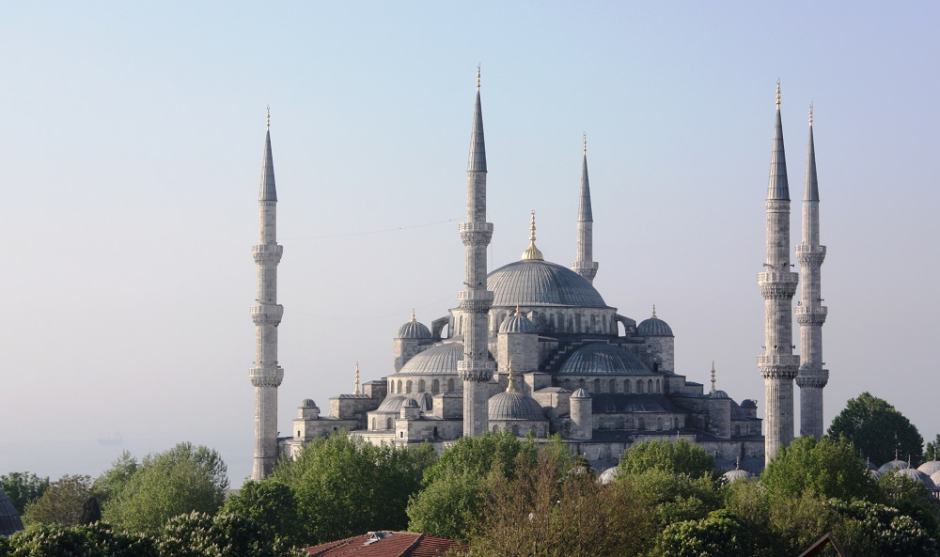 Two hundred or so stained glass panels allowed the morning sunshine to stream through, though there were also grand chandeliers which helped illuminate the space. We noticed something a little odd about them too: they featured ostrich eggs. Apparently, some said they were supposed to keep spiders at bay, though others argued the assertion was mere superstition and not grounded in fact. Nevertheless I filed the information away for future reference, spiders being a frequent visitor to my home in the autumn.
A few minutes' walk across Sultanahmet Square was another of Istanbul's great attractions, Hagia Sophia. Now a museum, it had started off life as a cathedral when it was built in 537AD, the largest of its kind anywhere in the world. Later it was converted to a mosque, remaining so until 1931. These days, it is a museum.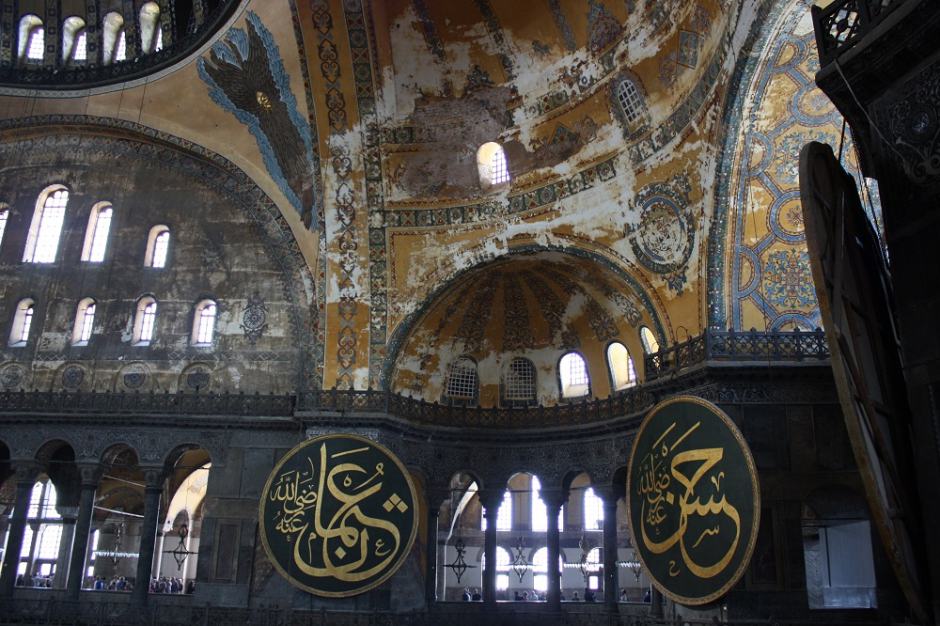 It was impossible not to be impressed by its huge dome, nor to miss the calligraphy on the roundels suspended from its walls. We learnt that these were names representing Allah, Mohammed and the four caliphs Abu Bakr, Uthman, Umar and Ali who were Mohammed's successors. A cobblestone ramp took us to the upper galleries, wide enough that horses were once rode up it. From the top storey, we had a closer look at the impressive dome, though we were alarmed to be told that it had collapsed not once but twice before and beat a hasty retreat lest it should happen a third time.
It was time to head underground, and one of the most atmospheric spots to do so in the whole of Istanbul was fortuitously just around the corner. The Basilica Cistern was built in 532AD to store water, but was closed and forgotten about for centuries until in 1545, an academic who was researching the city's antiquities had a casual conversation with some of the area's residents who obtained their water by lowering buckets from their basements into the void below. Some even claimed to have caught fish.
Intrigued, the scholar found a way down and discovered a cavernous space lined with over three hundred columns. He was excited with his find, but the twist to this tale is that the city authorities weren't. Unimpressed, they used the Cistern as a municipal dump, storing everything down there from junk to corpses. Fortunately, by the mid-eighties, Istanbul finally woke up to how important the place was, cleaned it up and opened it as a tourist attraction. Walking around, it was crazy to think that this could have remained under wraps for so long.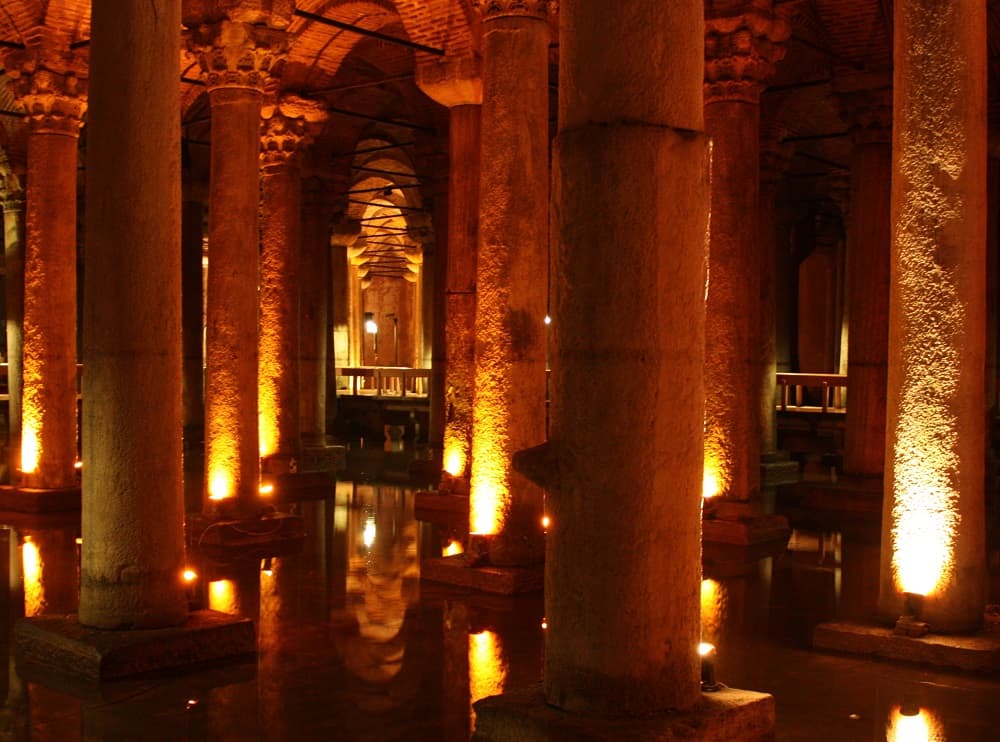 Back at street level, it was time to hit the bazaar, hopping off the tram at the Yusuf Pasa stop. Istanbul's famous Grand Bazaar, like many in the Middle East, is a world away from the malls of the west. Its passageways stretch almost endlessly, a spider's web of stone ensnaring 4,000 tiny shops along 61 arteries. It's been a fixture here for over 500 years and an essential stop on any visitor's itinerary.
I knew this wouldn't be a fleeting stop for us; sis was a keen shopper and was excited at the opportunity to practise her haggling skills. There was no shortage of goods to eye up, and, as is the custom in the Orient, each kind of business had its own dedicated section of the market. There were jewellers, confectioners, furniture stalls, leather sellers and of course, piles and piles of rugs. Had it not closed up for the evening, we'd have been there all night.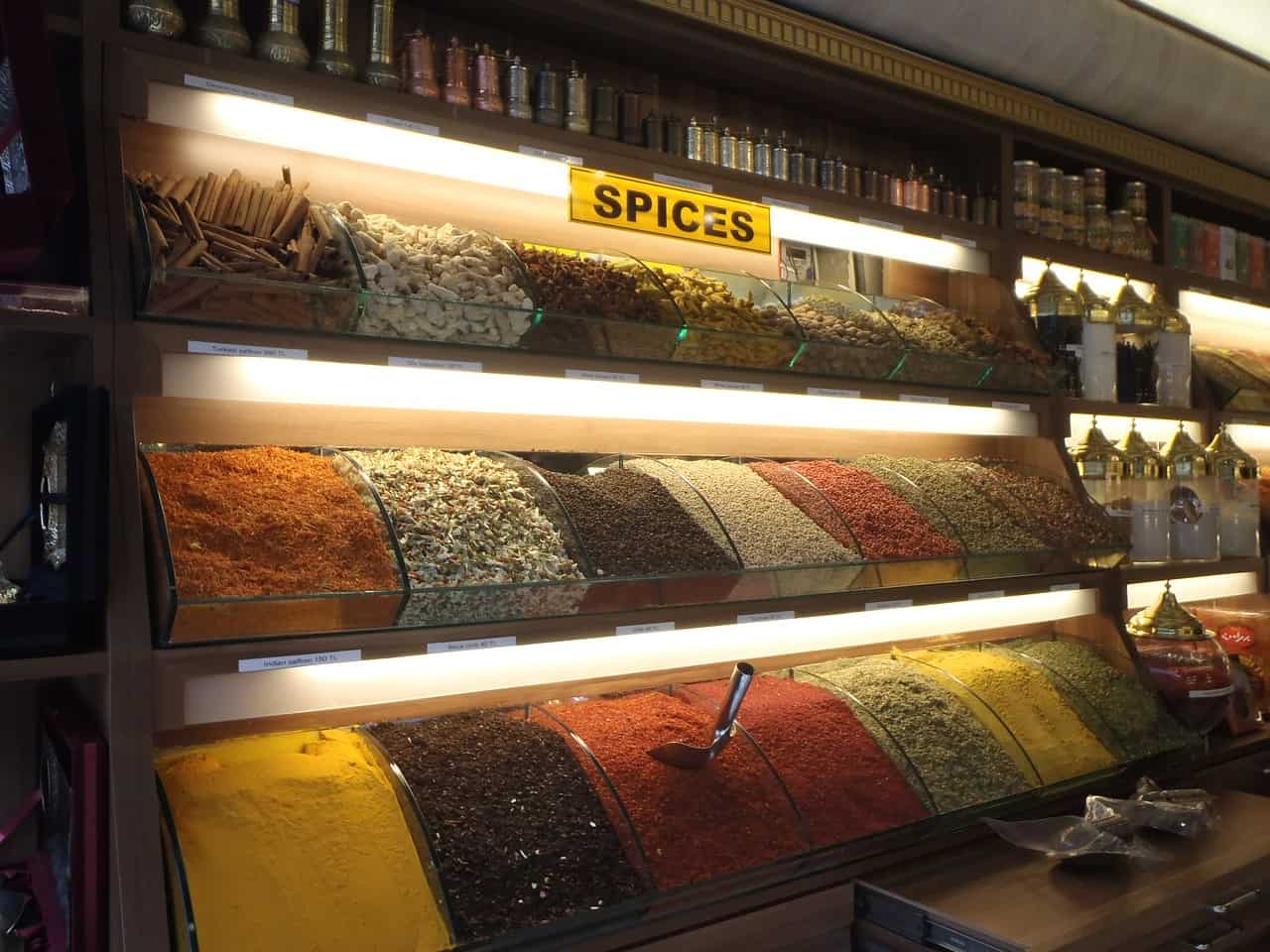 Tomorrow we would climb the Galata Tower, explore the Topkapi Palace and take to the water on one of the many ferries that criss-crossed the Bosphorus. We would hang out by the river and watch the birds hover expectantly over the fishermen's rods on the bridge that linked Eminönü and Karaköy. We'd sniff spices in the Spice Bazaar, munch Turkish Delight and eat at a rooftop restaurant that offered what surely had to be one of the best views the city could offer.
But for now, my feet had had enough. It was time to trip over the shower and go to bed.